WELCOME - BENVENUTO - WILLKOMMEN - BIENVENUE
For further information on each section of Palombos Of Balloch please click on the images above.
Palombo's is a family run business founded in 1934 by Ernie Palombo. As a family, we are here to help make your visit to the bonnie banks of Loch Lomond a memorable and pleasurable experience. With over sixty years of experience, we take great pride in delivering the highest standard of accommodation and the freshest and most exciting Scottish and continental cuisine.
The restaurant opens early, 11:30am in the winter and 11:00am in the summer, serving
a wide range of food - from full Scottish breakfasts to bacon and egg rolls, or just enjoy a cup of tea or a freshly ground Italian coffee. We have an extensive menu with great Scottish favourites such as homemade lentil soup, haggis, black pudding (with our special whisky sauce), homemade steak pie and macaroni and cheese. Our stone baked Italian pizzas are also not to be missed!
Palombo's of Balloch has been nominated for the fish and chip shop of the year award on no fewer than five occasions and we are proud to say that in 2014 and 2009 we reached the the last ten out of thousands of fantastic Scottish fish and chip shops. We have achieved the sea-fish industry quality award every year since 1996 and have had fantastic media support, most recently with a wonderful double-page spread in Scotland's Herald on Sunday Magazine which highlighted our dedication to sustainability in fishing. Our customers come from far and wide for one of Britain's finest fish and chips.
Testimonals
---
"Fantastic Place to stay with great staff that will go out of their way to make sure you enjoy your stay ! would recommend to any one . see you again! thank you" (Grace Chapman and ryan hutchinson sheffield )
---
absolutely great people food and scenery amazing thank you for making our stay feel like we where staying with old friends wish we could be back soon
---
absolutely great people food and scenery amazing thank you for making our stay feel like we where staying with old friends wish we could be back soon
---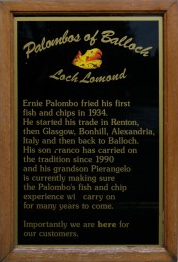 Latest News